Thredbo Resort Progressive Dinner
12/12/2015, 4:00 pm
Thredbo Village, Thredbo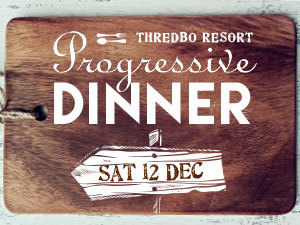 Stroll the picturesque village and enjoy the fine food and hospitality of some of the Thredbo's favourite eateries.
You will visit five restaurants for five courses, carefully created by each Executive Chef with all dishes perfectly matched with Yalumba wines.
The journey wraps up Poolside at the Thredbo Alpine Hotel listening to live music, sipping Sticky and enjoying the sun setting over the mountains.
Progressive Dinner Menu
Cascades Restaurant Deviation Road Sparkling with Fresh Chilled Oysters
Central Road 2625 Nautilus Sauvignon Blanc with Spicy Pork
Black Bear Inn Heggies Riesling with a Seafood Platter
Bernti's Tapas Terrace Bar Bleasdale Generations Shiraz with Lamb Cutlets and Sweet Potato
Poolside Bar with Live Entertainment Yalumba Museum Release Old Liqueur Muscat with Grande Cheese Platters
The Thredbo Progressive Dinner starts at 4 PM at Cascades Restaurant in the Thredbo village.
This event costs $90 per person and reservations are essential. Contact 6459 4200
Thredbo
Thredbo Village
Thredbo